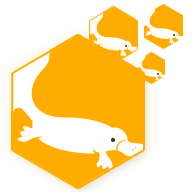 Platyform Agency Model:
Model Overview
 Platyform Agency Model: 
Unlimited IO Agency and Sub-Client Consulting-as-a-Service (CaaS) w/ Platyform Enhancement Technology
$4,999.00/month with 4mo. commitment at "Agency Advanced Support" Membership Level
Agency's Monthly Service Package Options – Available  After 4mo. Commitment         
(OPTION #1) – Agency Advanced Support – $4,999/month 
8 Active Tickets Thru Queue
Up To 3 "Under Review" Ticket Events Per Week
3 Hours of Scheduled Calls per Week (MWF:1hr or TTh:1.5hr slots)
3 Additional Meetings per Week (up to 1.5-hour slots available on approval)
New Client Care Plan (CCP)
Sub-Client Digital Platform Customization (w/ best practice and CCP scope approval)
(Everything in Intermediate Support – Ticket and Availability limits do not compound)
(OPTION #2) – Agency Intermediate Support – $2,499/month
3 Active Tickets Thru Queue
Up To 1 "Under Review" Ticket Events Per Week
2 Hours of Scheduled Calls Bi-Weekly (MWF:1hr or TTh:1.5hr slots)
1 Additional Meetings per Week (up to 1.5-hour slots available on approval)
Agency Suite Stack Customization (w/ Best Practice Approval)
Custom Development Support (w/ Best Practice Approval)
IO Stack Template Library w/ Customization Support
(Everything in Basic Support – Ticket and Availability limits do not compound)
(OPTION #3) – Agency Basic Support – $899/month
1 Active Tickets Thru Queue
Up To 1 "Under Review" Ticket Events Per Month
2 Hours of Scheduled Calls Bi-Weekly (MWF:1hr or TTh:1.5hr slots)
1 Additional Meetings every Two Weeks (up to 1.5-hour slots available on approval)
Agency Suite Stack Customization (w/ Best Practice Approval)
Custom Development Support (w/ Best Practice Approval)
Stack Upgrades and Component Support
IO Stack Template Library w/ Basic Deployment Only
Unlimited Support Discussions (see chart for topic limits)
(Everything in Plugin Only Support)
(OPTION #4) – Agency Plugin Support Only – $249/month 
0 Active Tickets Thru Queue
0 "Under Review" Ticket Events
1 Additional Meetings every Month (up to 1.5-hour slots available on approval)
Plugin Tools and Enhancement Suite (White Label + Agency Sub-Client Support Routing)
Unlimited Support Discussions for Platyform Plugin Only
AGENCY MODEL MONTH-TO-MONTH MEMBERSHIP SERVICE & ACCESS BREAKDOWN: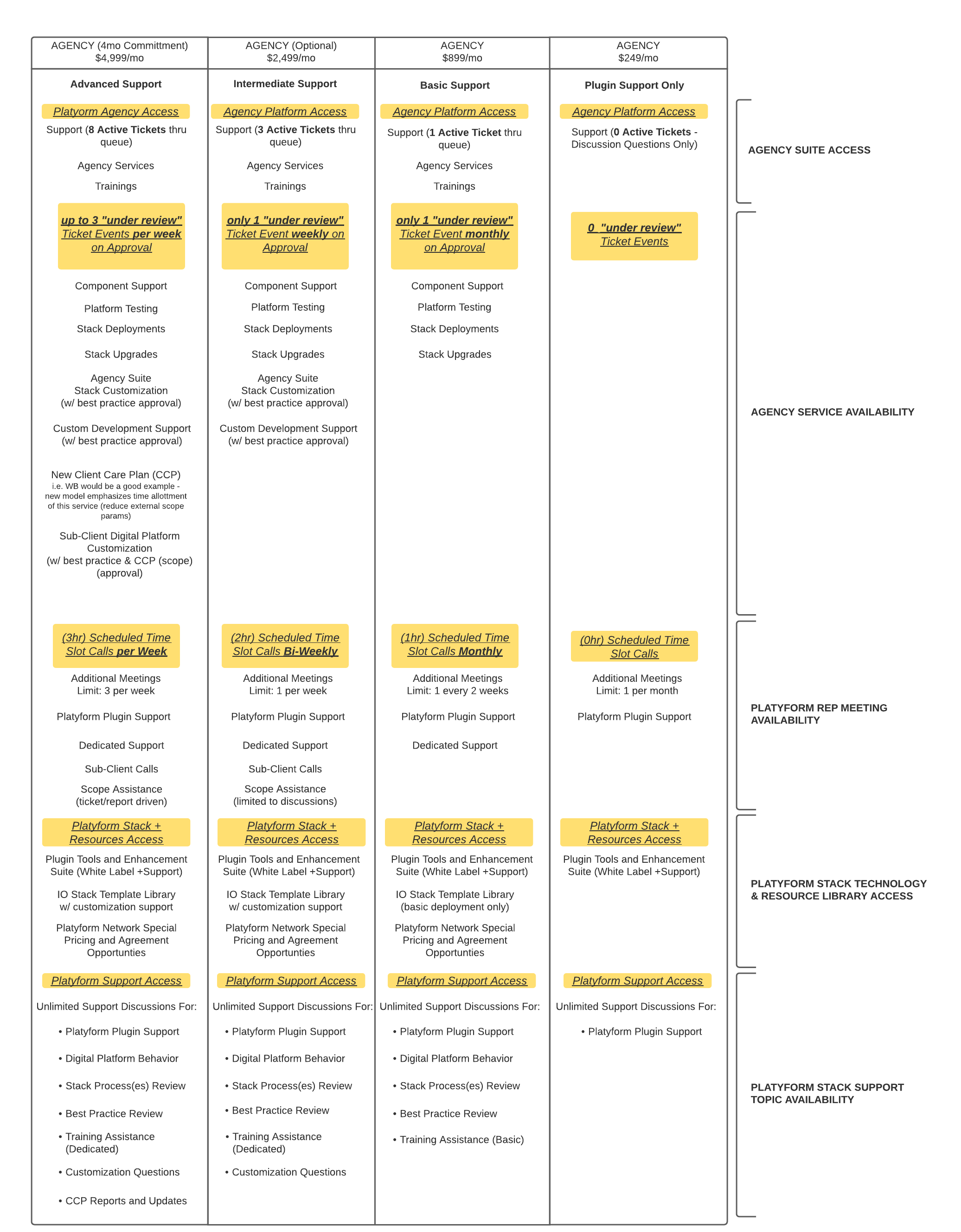 PLATYFORM STACK ENHANCEMENT PLUGIN FEATURES, FUNCTIONALITY, & LICENSING:
All Platyform Stack Enhancements Tools are made available through Platyform's Relay Licensing System©. The RLS facilitates effective license and sub-license relationships through the provision of secure, dedicated endpoints (similar to API license keys) from Platyform to its Agencies and corresponding endpoints those Agencies can provide to their Sub-Clients. The RLS ensures that white-labeling and custom support routing can be effectively provided through a highly streamlined codebase and deployment matrix.

Due to the designed nature of the Relay Licensing System©, if an Agency's Subscription Membership becomes inactive and considered "terminated" (see Platyform Agency Model #1211 for more details) the RLS will fallback to basic Platyform defaults in regards to all Agency White Labeling, Agency Support Routing, and Remote Update procedures the RLS directly facilitates through the provision of appropriate licensing and the Agency's Membership activation. ALL OTHER FEATURES and SYSTEM CRITICAL FUNCTIONALITIES RELATED TO PLATYFORM STACK ENHANCEMENT PLUGIN DEPLOYMENTS WILL REMAIN ACTIVE AND FUNCTIONAL FOR ALL UNLICENSED AND/OR "TERMINATED" DEPLOYMENTS.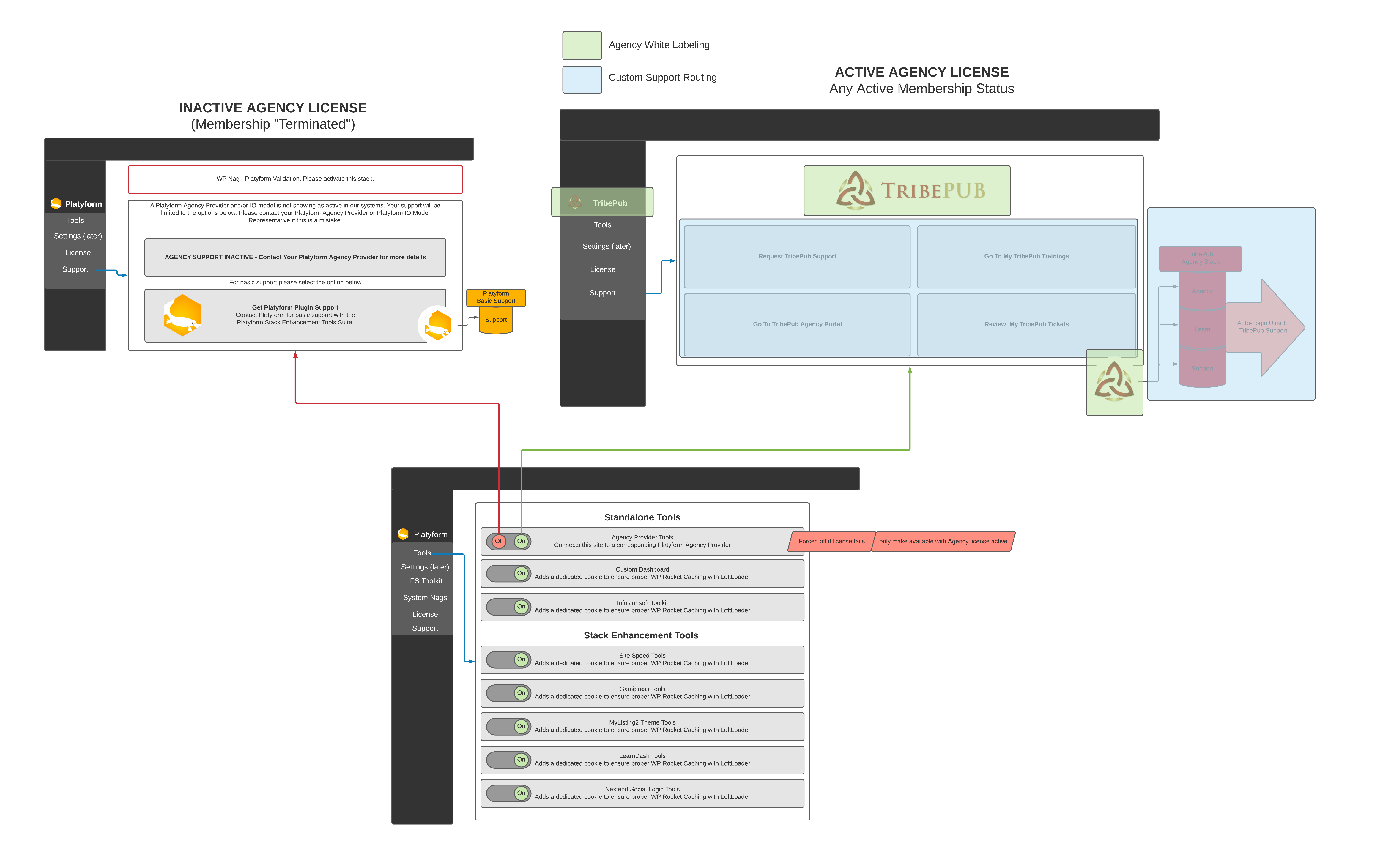 ADDON & A LA CARTE SERVICES:
Additional Platyform services can be purchased as add-ons to the Agency Model. These Addons will be made available in the agency.platyform.io site for review and purchase at the price shown. Each of these services is subject to its own terms and agreements regarding its provision and fulfillment.
Platyform Slack Rep – Monthly – Have a Platyform Rep join your Team's Slack Channel. Your team member can reach out to the Platyform Rep directly and have support topics answered directly and appropriately fielded on their behalf. All limits and conditions posed by the selected month's support package still apply with Slack Channel Support. The Platyform Representative will not originate Platyform IP inside of an Agency's Slack, all references to which will be referred to the Platyform Agency and Support Portal.
 
Agency System Admin Services – Monthly – For Agencies utilizing a Digital Ocean, CloudFlare, and SpinupWP stack foundation, Platyform will provide Weekly Server Upgrades, Bi-Weekly Plugin Updates, Post-Upgrade Testing, Uptime Monitoring, Manage server and site technical configuration requirements, Delegate System/site Login Info and appropriate accesses to contractors and delegated parties, Manage site backup and restore procedures, and assist with licensing procedures of premium plugins.
 
System Login Info and Plugin Retention Manager – Monthly – Maintain records of system access and credential information for ownership accounts (Agency sites, Sub-Client Sites, premium plugins, system platforms, etc.). Stored securely offline – made available on request. 2FA system in the works for on-demand pulls.
 
Additional Calls, Meetings, and Service Requests – One Time – Additional calls, meetings, and service requests outside of the Agency's selected membership package for that month can be purchased according to the Agency's desired scope and reflecting ala carte pricing.
 
 PRICING MODEL MOCK FORECAST: 
The chart below reflects a hypothetical 12 month membership package selection sequence, addon services (pricing estimated) and corresponding pricing for an annual period.
 

PTF Mode

($) Flat Rate

Number of Sub-Clients

($) PTF Monthly Total

Month 1

commit

ACTIVE (FULL)

4,999

3

4,999

Month 2

commit

ACTIVE (FULL)

4,999

4

4,999

Month 3

commit

ACTIVE (FULL)

4,999 

7

4,999 

Month 4

commit

ACTIVE (FULL)

4,999 

6

4,999 

Month 5 (opt.)

ACTIVE (INTERMEDIATE)

2,499 

8

2,499 

Month 6 (opt.)

ACTIVE (BASIC)

899

10

899

Month 7 (opt.)

ACTIVE (BASIC)

899

12

899

Month 8 (opt.)

ACTIVE (BASIC)

899

11

899

Month 9 (opt.)

BASIC (PLUGIN ONLY)

249

15

249

Month 10 (opt.)

ACTIVE (INTERMEDIATE)

2,499

18

2,499

Month 11 (opt.)

ACTIVE (BASIC) + Sys Admin Addon

899 + 549 (est.)

22

1,448

Month 12 (opt.)

ACTIVE (BASIC) + Sys Admin Addon

899 + 549 (est.)

24

1,448

 
 

Annual

= 30,836

Unique

= 23 

 
Annual Total
 
 
 

(30,836)